PT1 COLLINS INLET Killarney, P0M 2A0
$749,000 EXCLUSIVE
MLS #

EXCLUSIVE
| | |
| --- | --- |
| View Map: | |





Property Highlights







Perfect Georgian Bay Family Compound

Perfect Church or Kids Camp Location

Previously Operated as Mahzenazing Lodge
49 Acres of Private Sanctuary
Offered for the First Time
Approx 5600 sq. ft. of Living Space in the Main Lodge
We are Green Energy Gem
Cell Do Work at this Site
Mixed of Topography Adorns Site
Turn Key Site
The Land! The Land!
Really...5000ft. of Water Frontage
The Georgian Bay of the North
Seller will Consider a Possible Vendor Take Back to Qualified Individuals




Resorts
Click Thumbnails to Print or View Larger Size Pictures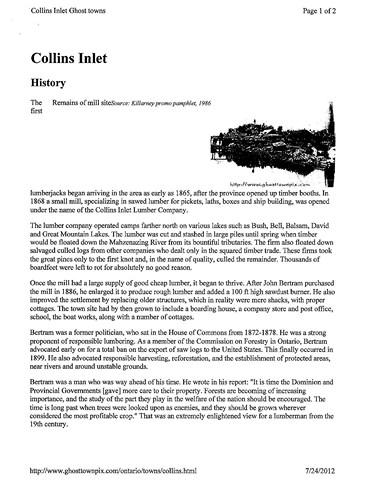 A Direct Route from Desirable to Affordable - Our Best Kept Secret

Our best kept Georgian Bay secret is being offered for the first time & it is such a diverse opportunity!!

It could be a lifestyle for the independent - adventurist personality!!

It could be a opportunity for a family compound that loves the Bay!!

It could be a great kids camp - church camp - family camp!!

Opportunities abound here!!

Set apart from the rest of Beaverstone Bay is this approximately 49 acre private sanctuary that is so unique & so exceptional!

Being offered for sale for the first time in 8 decades is this once bustling site that hosted a logging community with 1000 men.

Our history has taken this community now with opportunity to operate as either a personal family compound or smaller size resort style setting!

We are only green here!

Yes, your cell phones do work!

(Electricity conventionally is not available.)

Our physical plant operates with an existing septic system, diesel generator, gravity fed water system.

*Note: in its heyday the site had a water turbine system & the dam is due to have a scheduled upgrade.

Our main structure is a rustic lodge approx 5600 sq. ft. with a few outbuildings in existence.

Some history of Collins Inlet can be reviewed in our detailed portfolio.

The site operated until ten years ago as a full fledged American Plan Tourist Resort & catered to many corporate & private individuals.

History abounds here!

The value of this offering is defiantly in the raw land!

The value is definitely in this unique mix of topography!

Our shorelines are rugged, unusually unique & so desirable.

Our total area is approx 48.59 acres with 5000 ft. of frontage on the river & inlet.

More??

Our quartzite rock base overpowers the surface with a light overburden of White Pine, Spruce, Birch, Poplar Oak & Native Juniper!

Collins Inlet is a lifestyle for the independent & adventurous personality.

Our package could include a turnkey custom built structure by our sellers if such was in the cards!

This is an opportunity that comes once in a lifetime!

For the ultimate in getting away from it all...

This is it!

It's, not hard to fall in love with this "Perfect Refuge!"

As, I travelled by boat to the "Maz" as she is fondly spoken of & saw this site.

I was breathless!

It is stupendous!

Other Information:
Taxes: $3,909.00
Full Septic
Water: Lake
Heat: Wood
5000 ft. of Frontage
Legal Description: CARLYLE CON 1 LOT 2 RP 31R1544 PART 1 MAHZENAZING
Directions: Drive to Killarney Ontario... Boat Access Property only... Please contact Listing office for directions.